Any culinary enthusiast is very excited about the prospect of organizing their recipes in the most efficient way possible. Apart from having a binder or a book with all of the recipes and other cooking related information, one also requires boxes and organizers.
Luckily, there is no shortage of recipe boxes in the market for people wishing to store the cards of their favorite meals. In this buying guide we will be mentioning the top 5 recipe boxes and organizers you can buy online. We will also mention buying tips for these products so that you make the right decision.
Citrus Floral Recipe Box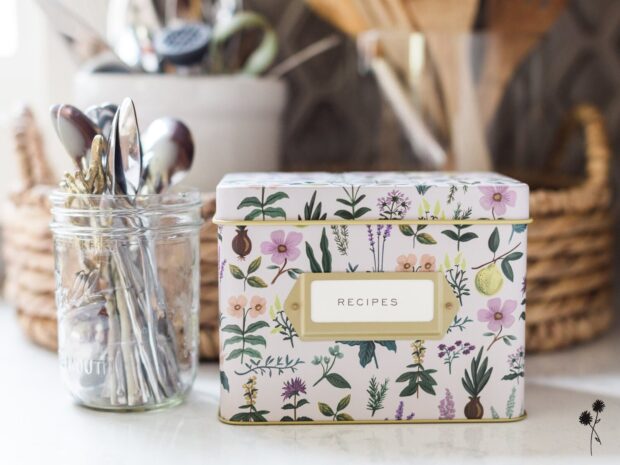 The citrus floral recipe box from Rifle Paper Co. is as beautiful as it is useful. It has the perfect charm for any kitchen and will add necessary color to any room in which it is kept. This is the perfect choice for anyone who wants their kitchen to look good.
There is a gold metallic interior in this box and has two dozen free recipe cards. There are 12 dividers which allow you to categorize every detail according to personal preference. It will look good in any vintage or modern kitchen and is durable enough to be a permanent fixture in any home. It is made of tin which makes it easy to handle and lightweight to carry.
Acacia Wood Recipe Box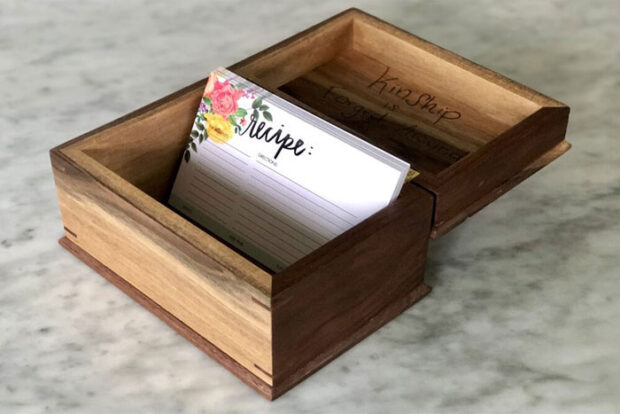 Ironwood Gourmet offers this rustic product which is impeccably stylish and fit for any kitchen. The wood has a darker undertone which is perfect for a rich look. In terms of organization purposes there are two compartments inside this box and 10 divisions in total.
The space and it is more than enough to hold a number of cards, especially if you are going with minimalism. The material is durable and will not require a lot of maintenance apart from the regular dusting and cleaning. Additional convenience is the extra storage in the grooved lid.
Ultimate Kitchen Recipe Box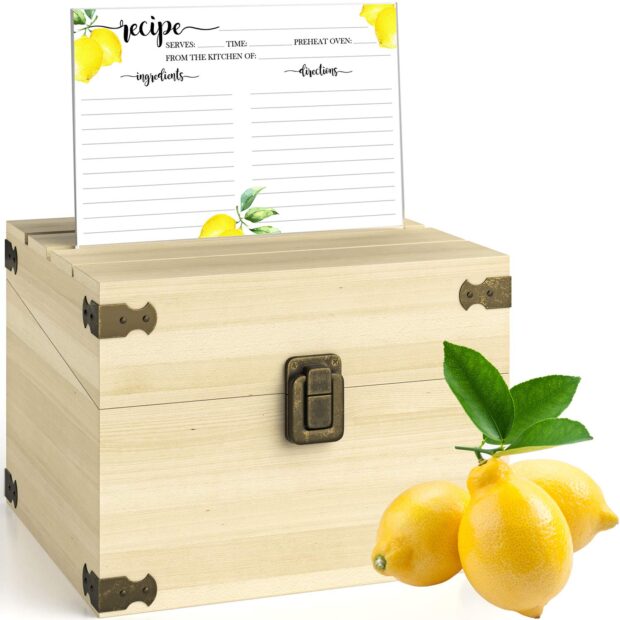 This organizer is made by Zen Earth Labeleze. It is in complete contrast to the previous entry which was darker in color albeit made of wood. This box comes in a light shade which gives a very clean and refreshing look to any kitchen. The customer gets to choose between bamboo or pine, both of which will give a very clean look.
There is a front lock which helps in preserving all the cards placed inside to prevent them from moisture damage and other deterrents. The construction is durable enough to make this a permanent addition on the kitchen counter. It is also better in the previous entries because of its large storing capacity. You can easily put more than 400 cards in this organizer with multiple dividers and card frames.
White Tin Recipe Box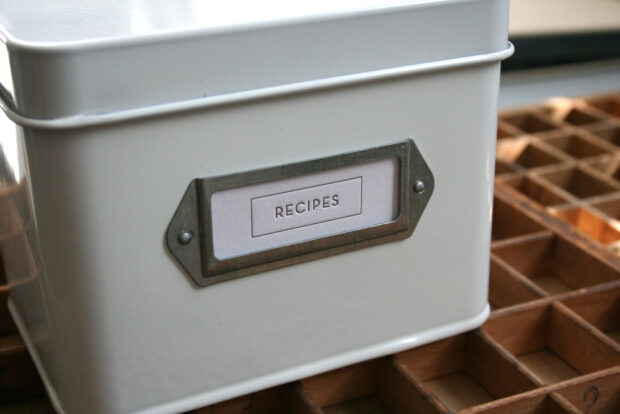 This is another entry made from tin which is worth mentioning because of a beautiful outer appearance. Polite Society made this denty box which can only handle cards measuring 4 x 6 inches. It has a hint lid and a durable construction with a metallic interior.
It is perfect for anyone who does not have a lot of recipes to store but still want to keep all the cards they have safe. It is available in two colors and comes with free cards and multiple dividers. It will last long and will look extremely pretty on your counter.
Bamboo Recipe Box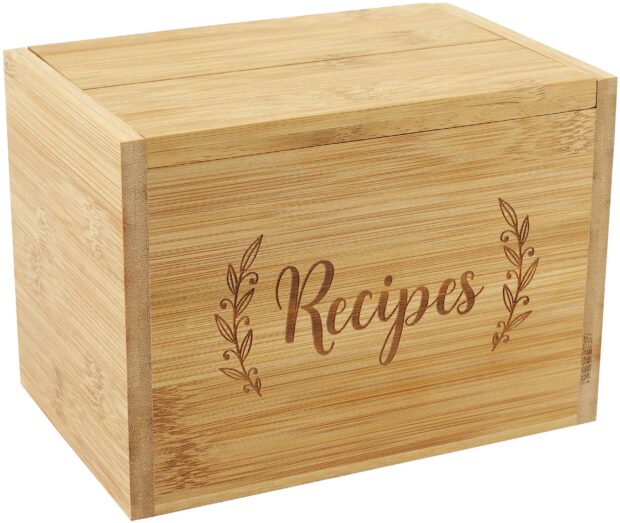 Oceanstar manufactured this organizer with a lot of care for quality which is why it makes its way here. It is perfect for anyone looking for minimalistic design with a very practical use. It is neither too small nor too large and can hold over 50 cards easily.
The lead can be opened all the way which makes accessing different cards easier. The divider helps in organization and keeping things simple. Bamboo wood has its natural color which will be more on the light side. It has a grooved lid for easy use during cooking.
What to Look For In a Good Recipe Box?
Now that we have mentioned the top contenders for the recipe box, it this time to look for the little details that will help in finalizing the purchase.
The construction of a product directly relates to its durability and usability. Every buyer wants to spend money which they will not regret later so the right construction will help in deciding how to invest the money. Wood boxes are the best followed by plastic which is the least durable.
The size of the box comes next and it depends entirely upon personal preference and how many cards you have. The smallest organizer will allow you to hold at least 25 cards while the biggest one can go as high as 500.
The design is the next feature which cannot be overlooked because it will have to match with the house interior. The design also directly relates to the convenience of the buyer. Any recipe organizer will be great as a decoration so the appearance should be compatible with the interior of the house. Tin designs are more vibrant while wooden designs give a more rich look. The design also depends on how the lid will be opened and whether it has a lock or not.
The final factor to consider is the number of dividers and how many cards it can contain. Many boxes usually offer free cards inside which makes for a good deal and will help in shortlisting the final options.
The Takeaway
The final decision about the right recipe box depends on the buyer but the above mentioned tips will help out in shortlisting the right products. Both tin and wood are durable materials so the difference between size can be a determining factor. The number of dividers will also impact the decision based on how many recipes you have to organize. The appearance can make a difference because everyone's personal choice is different. So, one needs to look for convenience in all domains.